A lawyer for the Digital Citizen Fund, which supports the all-girls "Afghan Dreamers" robotics team who recently escaped from Afghanistan, has sent a formal cease-and-desist letter to an Oklahoma woman who claims she helped rescue the girls.
Allyson Reneau has been told to stop her media outlet tour claiming she "saved" the girls from the Taliban. "Continuingly using a 2019 pictures she took with the Afghan Girls Robotics Team, when they visited the space exploration conference in D.C when many of them were minors, as validation that you had anything to do with their immensely stressful and dangerous escape not only impacts the safety of the girls but it also significantly affects the safety of the members of the team who still remain in Afghanistan."
"It is highly unfortunate that you would use such a tragically horrible situation … for what appears to be your own personal gain."
The Qatari Foreign Ministry, which did help rescue the girls, additionally accused Reneau of playing "white saviour" in the girls' rescue.
Reneau insists that she did help the girls. "'I'm above board, and if you don't tell the truth, then you have nothing else to show for it," adding that she's confused by the "blowback" against her.
Reneau became a supposed hero of the rescue on Aug. 19, just days after the Taliban's swift takeover of Afghanistan, when Today.com published a story dramatically titled, "Oklahoma mom of 11 helps rescue 10 girls on Afghanistan's robotics team."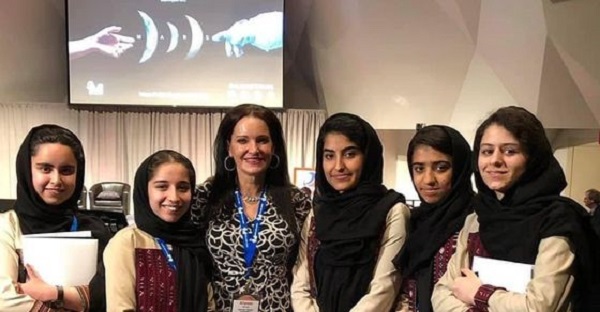 A Facebook fundraiser entitled Afghan Girls Rescue Fund has raised more than $50,000 with money going to Reneau's non-profit organization. Reneau said that all of the funds raised will go to the girls who have left the country but isn't sure how to get them the money yet, given the dispute with their parent organization.
Roya Mahboob, an Afghan business executive and founder of the Digital Citizen Fund, contacted a Qatari diplomat about the girls on Aug. 13.
Days later, the girls met with that government's ambassador to Afghanistan "in a secure location," AlHashmi said. "He escorted them safely to the airport, where they were evacuated to Doha in a plane arranged by Qatar's armed forces."
He said the Qatari government never worked with Reneau or heard from the U.S. Embassy about her.
"She took the agency from the girls and she claimed credit," AlHashmi said. "The media let her be a White saviour, claiming the girls were saved by her. They came to global attention because of their work … so it should be about them and their courage and the work they have done. This should be the story that the media is focusing on, not a woman who is thousands of miles away who is claiming credit."