Labour MP for Brent central, Dawn Butler today broke one of parliamentary etiquette rules that forbids an MP calling another a liar during commons session by calling out Prime Minister Boris Johnson on repeated lies to the country and the house during the pandemic.
The former shadow minister told MPs that "poor people in the country have paid with their lives because the prime minister has spent the last 18 months misleading this House and the country".
Butler then went on to raise disputed claims made by the prime minister during the pandemic, including that the link between COVID-19 infection and death had been severed. "It is dangerous to lie in a pandemic," Ms Butler said.
"I am disappointed that the prime minister has not come to the House to correct the record and to correct the fact that he has lied to this House and the country over and over again."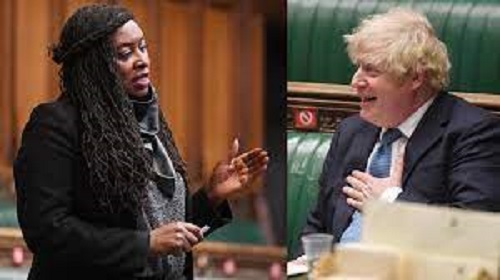 All attempts by the speaker to have Butler withdraw the statement failed and she was read the riot act of being suspended from the commons for a day.
Ms Butler left the commons but not before adding: "What would you rather – a weakened leg or a severed leg?"
"At the end of the day the prime minister has lied to this House time and time again. It's funny that we get in trouble in this place for calling out the lie rather than the person lying."
She later took to her twitter handle where she posted about the incident in the commons.
Ms Butler's punishment will only last for an hour as the Commons begins a summer recess later this afternoon.