Former British Prime Minister Liz Truss on Monday described as 'puerile' the newspaper stunt that compared her brief tenure as prime minister to a lettuce.
The conservative lawmaker's lightning-quick premiership last year was distinguished for being the shortest in modern British history.
An Economist article in October pointed out that she'd essentially managed just "seven days in control" which is "roughly the shelf-life of a lettuce."
However, The Daily Star tabloid took the joke a step further, when they set up a livestream of a lettuce rotting in real time to see if it would outlast the prime minister's time in office.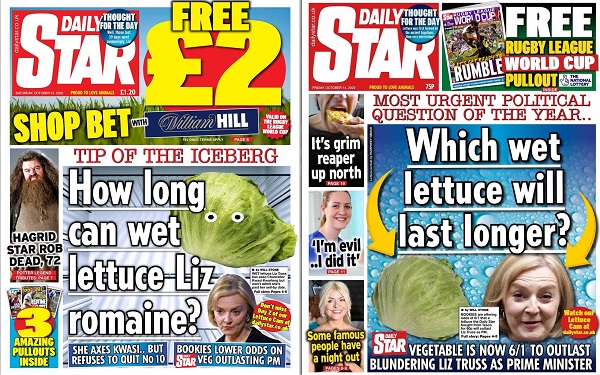 "I don't think it was particularly funny, I think it's puerile," Truss told Irish broadcaster RTÉ — after she snapped at the interviewer for even asking the question.
Ms Truss' tenure was engulfed with political turmoil, losing first Chancellor Kwasi Kwarteng after a mini-budget that crashed the pound and sent household costs soaring.
She resigned 44 days after becoming PM, making her stint the shortest in British history.
The previous record-holder was Tory statesman George Canning, who spent 118 days as prime minister in 1827 before dying in office from ill-health.