As the UK tackles its asylum challenges, government appears to be talking to the government in Ghana with a view to serve as a third country detention and processing base to alleviate the problems, according to a now-deleted tweet issued by the Ghanaian Foreign Ministry.
The tweet, posted on 30 August shows a picture of a virtual meeting between the UK's Africa Minister, James Duddridge, and Ghana's Foreign Minister Shirley Ayorkor Botchwey.
It read: "During the meeting, the Hon. Minister and the RT. Hon. discussed issues of mutual interest between Ghana and the UK, particularly in areas of security and migration, notably in matters relating to third-country asylum partnerships as the UK makes plans to reform its asylum system and tackle illegal migration."
The tweet also thanked the UK government for the donation of 249,000 doses of the AstraZeneca vaccine.
In response to the now-deleted tweet, Human rights campaigners raised concern that could mean that the UK is planning to adopt the much-talked about Australia asylum model with Ghana being their version of Nauru and Manus Island in Papua New Guinea where asylum seekers are known to be subjected to indefinite detention and human rights abuses before being processed.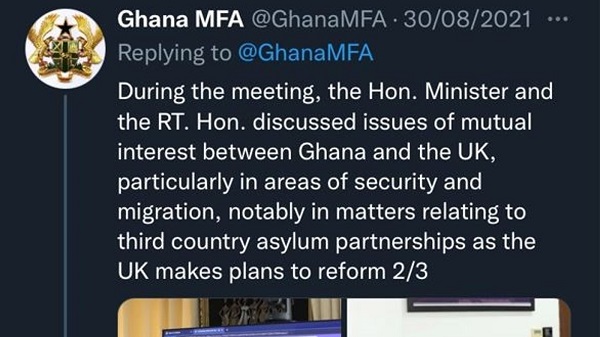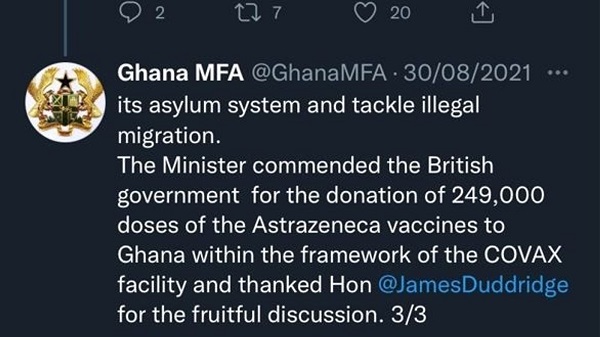 In June, the Times newspaper reported that British Home Secretary, Priti Patel, will introduce a new Nationality and Borders Bill into Parliament, which will include plans to create a center to process asylum claims outside the UK.
Initial plans for the asylum reforms were outlined in March as a response to growing numbers of migrants arriving on Britain's shores – more than 5,600 people have crossed the English Channel in small boats so far this year. At the weekend 315 people made the dangerous crossing.