Ed Sheeran's copyright trial in New York was thrown into disorder at the first court hearing when the woman suing him collapsed in court.
Kathryn Townsend Griffin, who is suing Ed Sheeran for allegedly copying her father's 1973 co-written hit with Marvin Gaye, Let's Get it On, with his 2014 song Thinking Out Loud – fell while trying to leave Manhattan Federal Court venue of the copyright trial.
She was helped up by several people but had to be stretchered out of court and was taken to hospital. Her lawyer said it was caused by a pre-existing medical condition, but did not go into details.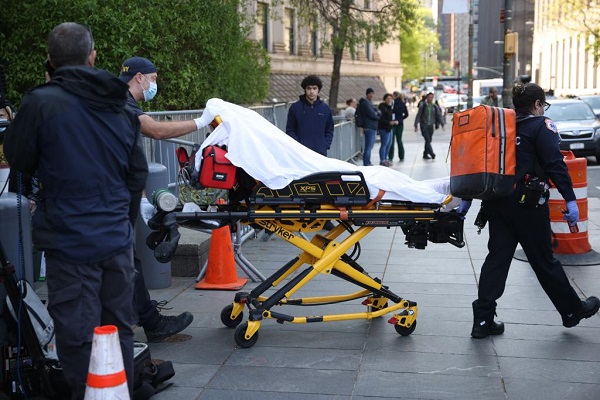 The "Shape of You" singer, 32, watched closely as Townsend Griffin was helped out of the stunned courtroom.
The shocking incident sparked an approximately seven-minute delay before Judge Louis Stanton ordered the proceedings to continue.
Townsend Griffin's attorney Ben Crump, in his opening statement, had claimed Sheeran gave a "confession" when he performed a mash up version of his song and Gaye's during a 2014 concert in Switzerland. Crump called a video of the live performance the "smoking gun" in the lawsuit.
Sheeran has denied that he copied the work—and on Tuesday said he would be "quite an idiot to stand on a stage in front of 20,000 people and do that."