A white Wisconsin lawyer who spat at a black teen during a Black Lives Matter protest rejected a deal of a year of probation with 100 hours of community service, saying she'd "rather go to jail."
Stephanie Rapkin, 67, choose to go to go to jail for a 60-day sentence. "It's not viable," she said, interrupting Milwaukee County Judge Laura Crivello as she offered the deal as credit for her "working to rebuild your faith and your trust in the community."
"Your Honour, I am outright refusing the probation," said Rapkin, who'd initially been charged with a hate crime for spitting at the then-17-year-old teen protest leader.
"I'd rather go to jail right now and take care of it."
Rapkin, a Shorewood attorney was convicted last month of misdemeanour disorderly conduct for the on-camera confrontation with anti-racism protesters in June 2020 after blocking their rally in suburban Milwaukee with her car.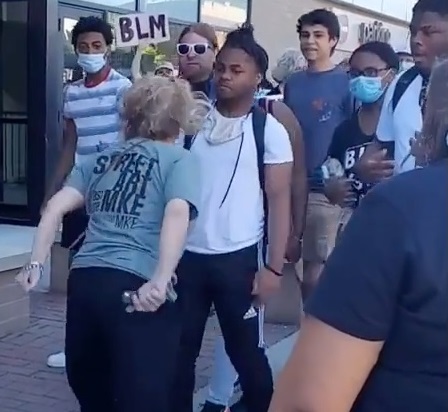 When she was confronted by protesters holding BLM signs, she was filmed spitting on Eric Lucas, then a 17-year-old high school junior and an organizer of the rally.
She still faces a separate charge of assaulting the arresting police officer, accused of kneeing him in the groin when he came to her home the day after the march. A jury trial has been scheduled for August.
Rapkin did not explain in court exactly why she was rejecting the offer of freedom, declining to make a statement prior to sentencing and blocking her family from addressing the court on her behalf.