Notorious Turkish butcher/restauranteur Nusret Gökçe's New York steakhouse restaurant known as Salt Bae Burger has closed shop after being named the 'worst restaurant in Manhattan.
The Turkish internet sensation known for sprinkling salt over steaks in aviator sunglasses and form-fitting white shirt with 52 million followers on Instagram, he is also notorious for crashing big football finals to pose for photograph with footie stars.
His Union Square burger joint got a damning rating from food critics for its exorbitant pricing, pretentious vibe and shallow only-for-Instagram menu. A sign on the door claims the business is "moving to a new location" at 412 West 15th Street, near Ninth Avenue, in the Meatpacking District. The address belongs to a location of Nusr-Et Steakhouse, which will continue to serve the burger chain's menu, according to a spokesperson for the brand.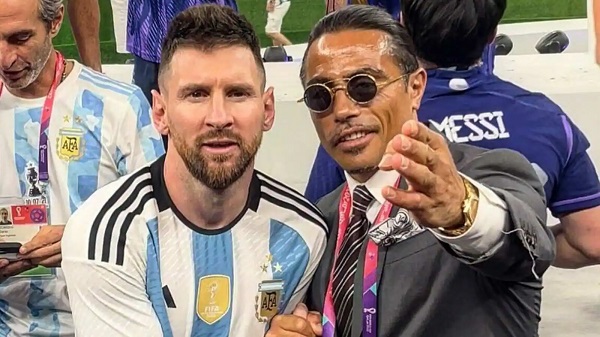 With Lionel Messi @ the World Cup in Qatar
The burger chain was a follow-up to Nusr-Et Steakhouse, a restaurant chain with more than 20 locations worldwide that the Turkish butcher brought to Manhattan in 2018. It was initially well-received, but in the months leading up to the opening of Salt Bae Burger, the tenor had started to change. The restaurant's parent company, Nusr-Et, was hit with multiple lawsuits over allegations ranging from sexual harassment to wage theft.
Salt Bae Burger opened its first location in Dubai in 2019, followed by its now-closed outpost in Union Square in 2020.