Following years of successful campaign for the Benin Bronzes looted during the colonial era to be returned to their place of origin, a dispute of who should take custody of the artefacts has ensued between the government of Nigerian and traditional rulers.
The dispute could jeopardise plans for the return of those Africa's most famous artefacts.
The Bronzes, thousands of metal sculptures and ivory carvings, were stolen from the Benin kingdom in what is today Edo State in southern Nigeria.
However, a recent well-attended meeting summoned by the Oba of Benin, Ewuare II in the Edo capital Benin City to warn of an attempt by what he called an "artificial group" to "divert" the return of the Bronzes stolen from the palace during the reign of his great grandfather toppled by the British in 1897.
The King was referring a group called the Legacy Restoration Trust (LRT), a British museum sponsored organisation which also enjoy the support of Edo State Governor Godwin Obaseki and had planned to put the Bronzes in an Edo Museum of Western African Art (EMOWAA).
The Oba made a compelling argument against his opposition of LRT at the meeting – "The right and only legitimate destination" for the Bronzes would be a "Benin Royal Museum", he said, sited within his palace grounds''.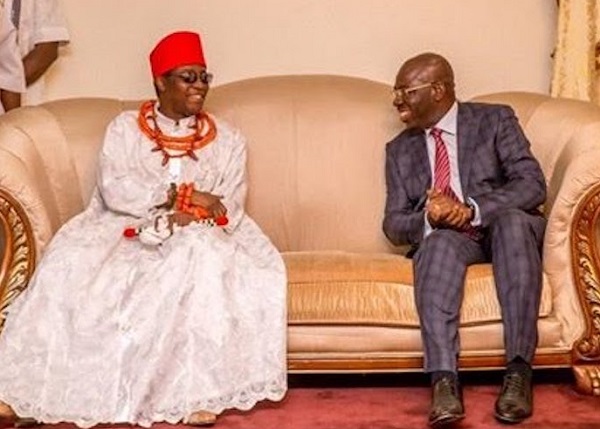 He insisted that the Bronzes had to come back to where they were taken from, and that he was "the custodian of all the cultural heritage of the Benin Kingdom".
However, the Oba's son and designated heir, crown prince Ezelekhae Ewuare, attends the board meetings of the LRT but professes he knows nothing about them.
The federal government of Nigeria's National Commission for Museums and Monuments also denied knowledge of the LRT.
Meanwhile, Governor Obaseki has commission celebrated architect, Sir David Adjaye, to design the new EMOWAA museum with millions of dollars backing from the British Museum and a deal for an archaeological project in Benin City. The British and German officials barking of the LRT is on the understanding that Oba Ewaure II was on board with the project.
The Oba has warned against dealing with the LRT who he says are working against the will of the people of the Benin Kingdom.
The seeming distrust and rivalry between Oba Ewaure II and Governor Obaseki is a tussle that could only mean one thing, prolong the journey of the artefacts back to their ancestral home.
In recent years, as European governments have come under pressure to atone for colonial-era crimes, some have spoken of their desire to return looted artefacts.
In April the German government said it wanted to give back hundreds of Benin Bronzes, and several museums in the UK have made similar announcements.
Image courtesy-GETTY