Global media coverage on Wednesday was dominated by the sad sobering news of Tuesday's bloody confrontation in Lagos, Nigeria where armed security personnel opened fire on protesting youths at the Lekki toll gate, leading to many deaths and injuries.
It was a tragic climax to days of mainly peaceful action by the more than 1,000 protesters gathered Lagos, the economic capital of Nigeria, were dispersed Tuesday evening by live ammunition, after the entry into force of a total curfew imposed to extinguish the popular protest movement which has gain so much traction on social media having been on for more than 10 days.
Gunshots were heard around the tollgate late at night and until Wednesday morning as the business districts of Lagos Islands were completely empty, and all shops closed.
Amnesty International said that many demonstrators were killed on Tuesday evening, stressing that it is still trying to "determine their exact number."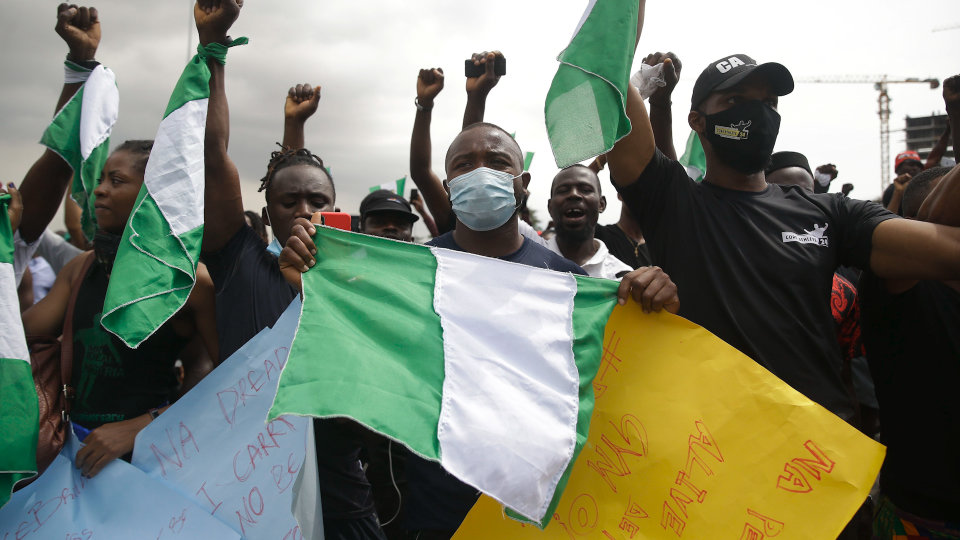 The governor of Lagos state who issued the 4pm curfew at 2pm on Tuesday Babajide Sanwo-Olu, denied there were any deaths but that the 25 injured protesters are currently being treated in three hospitals in the city.
He further said: "The responsibility for this unfortunate incident lies with me and I will work with the federal government to define what happened," he tweeted on Wednesday, saying that the crackdown has "escaped" his "control".
The Nigerian military has branded their involvement in the massacre as fake news on Twitter but videos widely shared on social media show men in military uniform firing live ammunition.
The governor also confirmed that "members of the Nigerian army" were "deployed in Lekki yesterday evening," indicating that an investigation had been opened.
Resentment over Wednesday's incidents prevailed on social media, even outside Nigeria.
US presidential candidate, Joe Biden, in a message posted on his website urged "President Buhari and the Nigerian military to stop the violent suppression of demonstrators in Nigeria, which has so far resulted in many deaths."
"The United States should stand with Nigerians who are peacefully demonstrating for police reform and an end to the corruption that is ravaging the democratic system," he added.
Pop star, Rhianna, in a tweet to her over hundred million followers wrote: "I cannot bear to see the torture and brutality that continues to strike our homelands." "My heart is broken for the sake of Nigeria," she added. "I am proud of your strength and your not abandoning your fight for justice."
EU foreign policy chief Josep Borrell said it was "alarming to learn that several people have been killed and injured during the ongoing protests", adding it is "crucial" to bring those responsible to justice.
UN Secretary General Antonio Guterres called on police "to act at all times with maximum restraint while calling on protestors to demonstrate peacefully and to refrain from violence".
Former US Secretary of State Hillary Clinton called on President Buhari and the army "to stop killing young #EndSARS protesters"
This unprecedented demonstration began in Nigeria in early October on social media, denouncing the police practice of violence, and then gradually turned into a protest movement against the current authority and maladministration.