Ghanaians on social media have expressed disdain towards the Chiefs and people of Kwahu Abetifi for enstooling a Chinese man as a local 'Development Chief'.
Sun Qiang was enstooled as a development chief (Nkosuohene) of Kwahu-Abetifi, a town in the Eastern Region of Ghana.
The title Nkosuohene is often given to non-royals, who could be politicians or tourists engaged in development. In Kwaju-Abetifi, this title was conferred on a Chinese man, and some Ghanaians are not so enthused over the development.
Sun Qiang's enstoolment also came with a traditional stool name — Barima Kofi Ayeboafo. The name Ayeboafo in Ghana literally means "one who has done something to benefit others".
Photos of him being carried shoulder-high by residents were shared online, provoking comments majority of them angry at the Chief of Kwahu Abetifi whilst others couldn't understand why a Chinese man would be made a chief in Ghana.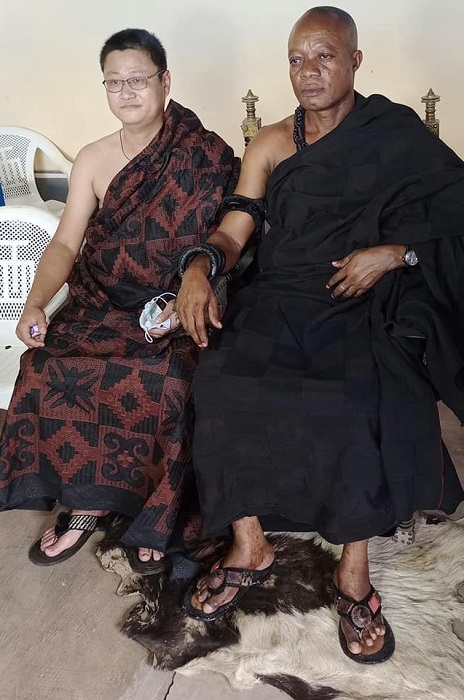 Linda Masarira tweeted: "What kind of nonsense is this @GhanaPresidency? Never in a million years will an African become royalty in China What is wrong with us? At this rate no one will ever take Africans seriously."
Kwahu Joey tweeted: "Eno be chief. It's nkosor hene and there is no power in it. It's just to honor someone who has helped a community. It was done in Kwahu Abetifi."
Oppong Eric tweeted: "When are Ghanaians going to change their minds about this foolishness do we blacks have chief in China, gimiiii saaaaa Ghana"