An Australian actress reported missing by family after not making contact following a meeting with an online date has been found in jail.
Laura McCulloch, 37, was arrested Aug. 12 and booked on $25,000 bail, according to the Los Angeles County Sheriff's Department.
McCulloch's last known location was at Japanese BBQ chain Gyu-Kaku waiting a date she'd arranged through a dating App, while at the restaurant, McCulloch allegedly threw her drink at someone and their 2-year-old toddler instead of enjoying her meal.
She was charged with a felony for public intoxication and resisting arrest, after police arrived to find her drunk and aggressive, allegedly kicking at officers and even biting one on the shoulder,
An online manhunt was sparked after friends and family began launched a missing person's appeal on social media for McCulloch after she didn't show up to work, yoga class and her other regular commitments.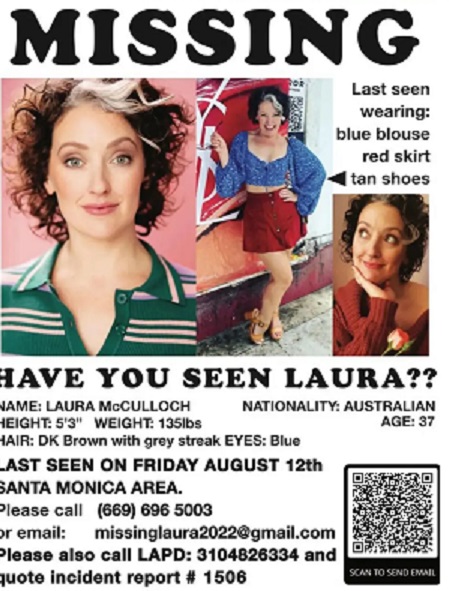 Santa Monica police have confirmed that McCulloch was arrested on Friday, shortly before her family raised the alarm about her apparent disappearance.
Laura McCulloch moved to LA after being based in New York in 2021 where she worked as an actor, singer, voice-over artist, writer and producer.