The recent directive issued by the Advertising regulating body in Nigeria (ARCON) introducing a ban on the use of foreign models in ad campaigns has been twisted by right leaning media in the West as a ban on white models.
The directive "All advertisements, advertising, and marketing communications materials targeted or exposed on the Nigerian advertising space are to use only Nigerian models and voice-over artists. Advertisers, advertisement agencies, media houses, advertising community and the general public are hereby enjoined to take note."
According to ARCON, the new law is in line with the Federal Government's aim of nurturing home grown talent and fostering economic expansion in Nigeria's advertising sector, creating more employment for young Nigerians and helping conserve scarce foreign exchange.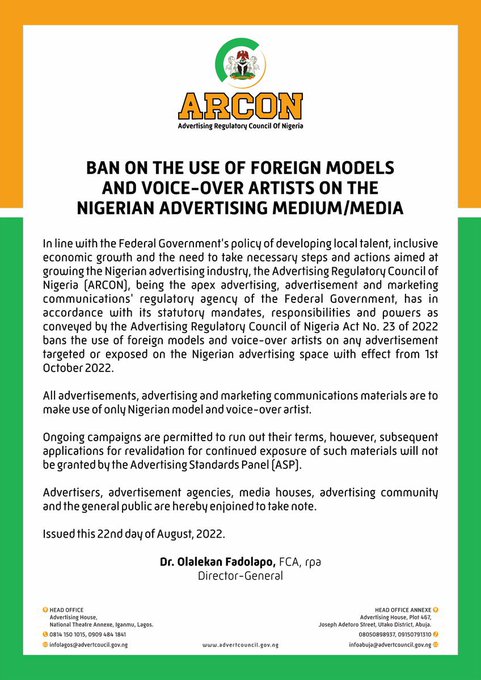 Nowhere in the ARCON statement dis it specifically mentioned that only white models are ban but by the time it arrived the new desk of newspapers like the Times in the UK, the best headline they could come up with read ''Nigeria becomes the first country to ban white models in adverts'' a misrepresentation that was promptly picked on by and repeated by bloggers and other biased news outlets, spreading all over social media.
A lot of twitter users that could see through the 'gaslighting' did their best to call out the Rupert Murdoch owned news stable.