As it is becoming more likely that people who have had the covid-19 vaccine would require a form of identification such as vaccine passports, negative test papers and even Covid-19 vaccines are being forged and sold on the dark web.
Prices ranging between $500 and $750 for doses of AstraZeneca, Sputnik, Sinopharm or Johnson & Johnson jabs while fake vaccination certificates are going for $150 by anonymous traders on dark net.
Dark web is the world wide Web content with overlay networks that use the Internet but require specific software, configurations, or authorization to access.
Researchers at cyber-security company Check Point who have monitored hacking forums and other marketplaces since January, when vaccine adverts first appeared said the number of adverts they have seen has tripled to more than 1,200.
Sellers of vaccines appear to be from the US, UK, Spain, Germany, France and Russia.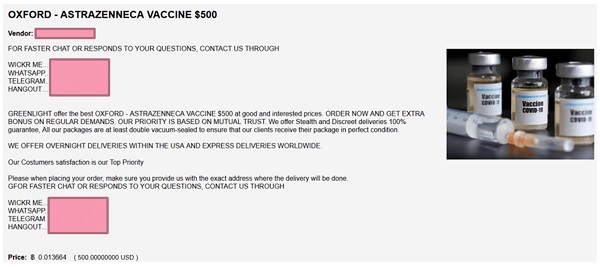 The vaccines advertised include the Oxford-AstraZeneca at $500, Johnson & Johnson and Sputnik each at $600, and Sinopharm at $750.
Such is the desperation of sellers that they are offering a buy two get one free.
Vaccination certificates for passengers is now a requirement for most airlines like Qantas and other holiday and tour operators require for travel in the summer.
In the UK a vaccine passport system is also being considered for use to allow visitors entry to venues such as bars, or sports stadiums while European officials are planning a "Digital Certificate".
This would allow anyone vaccinated against Covid, or who has tested negative, or recently recovered from the virus, to travel within the EU using a QR code on their smartphones.
Cryptocurrency, Bitcoin appears to be the preferred payment method.