A Georgian school that became infamous after a crowded hallway with unmasked students was posted on social media have now been forced to retreat to online studies after 12 students and three staffers tested positive with COVID-19.
North Paulding High school made national news after images of a crowded hallways went viral on social media, authorities immediately suspended two students, including one who publicly acknowledged posting one of the photos.
The suspension was met with national outcry from critics who accused school leaders of trying to silence the students. After the push-back, the district relented and lifted the suspensions on Friday.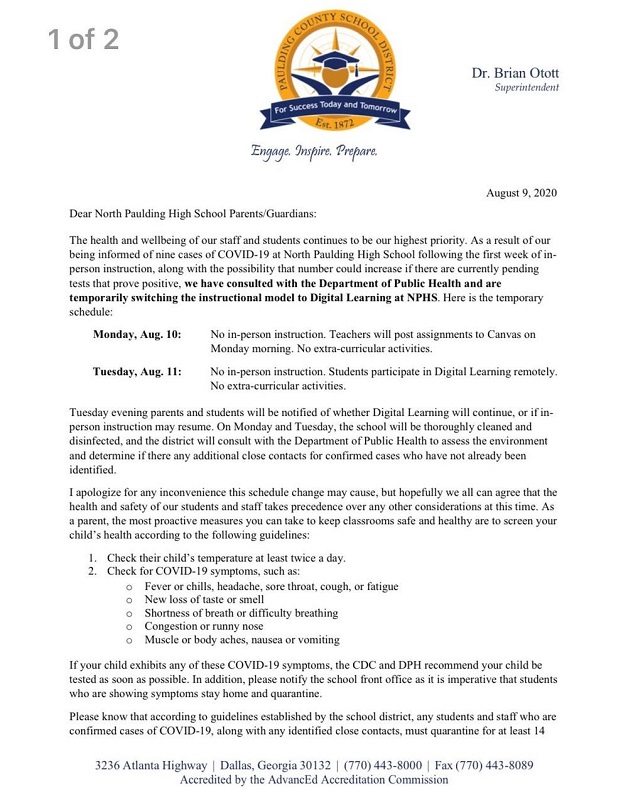 The district said it needs time to disinfect the North Paulding High School building and look for other potentially infected individuals.
"On Monday and Tuesday, the school will be thoroughly cleaned and disinfected, and the district will consult with the Department of Public Health to assess the environment and determine if there (are) any additional close contacts for confirmed cases who have not already been identified," Paulding Superintendent Brian Otott wrote in a letter to parents Sunday.
Parents received another letter on Monday 9th August disclosing to parents that six students and three staff members who were in the school last week had reported getting positive tests for the coronavirus.
Parents were advised to have their children tested for COVID-19 if they were displaying common symptoms, such as fever or loss of taste or smell.