Jamaica's broadcasting watchdog has banned music and TV broadcasts materials judged to glorify or promote criminal activity, violence, drug use, scamming and weapons that "could give the wrong impression that criminality is an accepted feature of the country's culture and society".
Read more

: JAMAICA: Broadcasting Regulator Bans Gun Violence, Crime Glorifying Music
Expectedly, some musicians have criticised the ban that includes 'urban slang' to do with making money or acquiring wealth saying it will do little to stop crime and will cut out of the conversation populations affected by heightened gun violence.
"Art imitates life, and the music is coming from what is happening in Jamaica for real," said Stephen McGregor, a Jamaican Grammy award-winning music producer and singer. "But because it doesn't fit the moral mould of what they would like it to look like, they try to hamper it."
The ban is in line government's efforts to end high levels of gun violence. Jamaica had the highest murder rate in Latin America and the Caribbean in 2021, according to research centre Insight Crime.
The Broadcasting Commission of Jamaica said that such music or video on public broadcasts "normalise criminality among vulnerable and impressionable youth."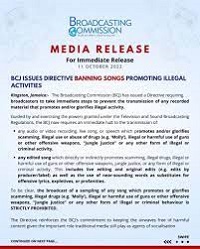 The broadcasting commission did not detail what consequences of a violation would entail, and declined to respond to a request for comment on criticisms of the ban but urged the public to report any alleged violators.